Are you passionate about digital media and the ways it can help people find God and strengthen groups of Jesus followers?
Are you a visionary team player who is not afraid to make decisions? Do you want to be part of a greater purpose, spreading the timeless message of hope in today's digital era? MediaWorks is looking for a Product Owner to help the development team build LightNet and get it into the hands of ministries.
About LightNet
LightNet is an online product that will enable groups of Jesus followers to:
Have their own platform to share Christian videos, eBooks, sermons etc.
Make it easy to create engaging community webapps
Share media with other LightNet instances in an autonomous way
About you and the work you would be doing
Do you get energy from working with people? Great, that is what we are looking for! In this role you will build relationships with (potential) users and feed their insights and ideas into shaping the development of the product. You will work together with a small development team and a handful of volunteers that are contributing to development in their spare time. Over time we would love to see a motivated community of developers who can easily join development on parts or extensions of the product. We can use your help with this!
You will be the delegated visionary that makes day-to-day decisions. Together with the MediaWorks leader you will be responsible for the long-term vision of this product. You will combine an understanding of what product users want with the technical requirements from the bigger long-term vision. Another essential part of your work is weighing the pros and cons and prioritising next steps.
Could you be the product owner that clicks with the product and our team? We would love to get to know you over a digital coffee chat where we can provide more background information about this product which we are so passionate about.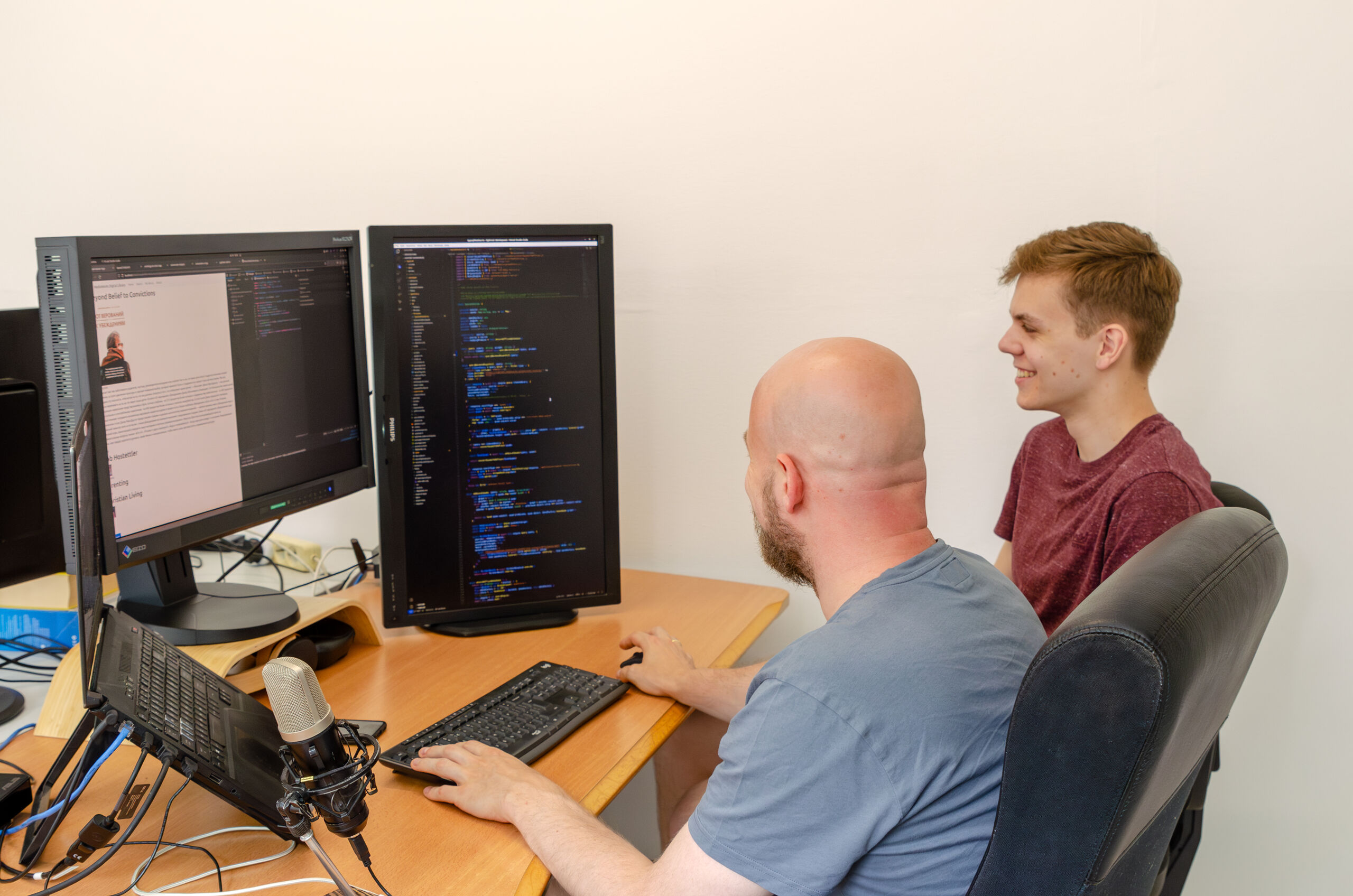 Daniel and Aaron at Aarons internship
Requirements
It would be very good to have previous experience as a Product Owner but it is not required.
Team player who is willing to learn, adapt and work on an international team based near Vienna, Austria, or working remotely from anywhere in the world with good internet.
Good communication skills, able to communicate in English
Understanding of and compliance with OM core values and statement of faith
Location
It is preferable to work in Stockerau, Austria, (or visit regularly), or it is possible to work remotely from anywhere in the world with good Internet connection. At a reasonable charge, on-site team accommodation in Austria may be available.
Financial
Salaries for full-time OM workers are not provided by the organisation but through individual support raising. There is also the possibility to offer your time on a voluntary basis.
To find out more, email: info.media@om.org.
We would love to have a (digital) coffee and talk!